Robbarer Baajaar (Bengali) by Rajatendra Mukherjee
Genre: Memoir
Even in these days of online shopping and doorstep delivery, a true blue Bengali feels satisfied only when he combs the Sunday market to handpick his favourite ingredients for a bhuribhoj (feast). It is this sentiment that author Rajatendra Mukhopadhay captures in his book Robbarer Baajaar (Sunday market). Well researched, well written, well illustrated, the book is a complete package and keeps readers engaged with its anecdotal narrative style.
Illustrations are as important in this book as the words and together they form an artful combination. Popular Bengali illustrator Debashish Deb brings the words alive with his inimitable drawings. One can almost imagine his glee as he illustrated for this book. And he has plenty to be gleeful about. Through Rajatendra's words, long lost cuisines, seaside fish markets, backyards and gardens come vibrantly alive.
The author chronicles his experiences of wandering far and near in search of a particular fish, a rare eggplant or a tasty fig. All khadyarashik (foodie) Bengalis can relate to this practice. Readers can also relish an array of ingredients in this book. Red spinach, coriander leaves, mangoes, cane molasses, crab meat, fish, you name it and it is there.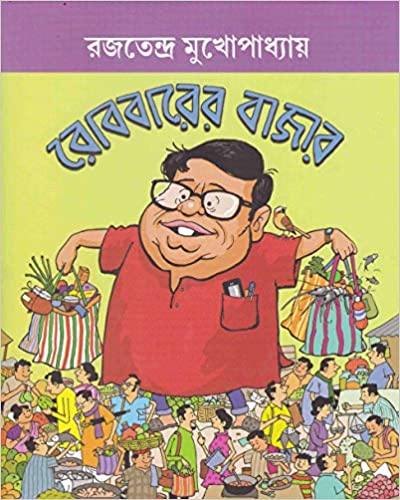 Speaking of mangoes, they star in the main role in a hilarious anecdote about Mirza Ghalib. The author recalls hearing this anecdote from his uncle. Once Mirza Ghalib, a mango lover, and Emperor Bahadur Shah Zafar were walking in the latter's mango grove. Suddenly, Ghalib stopped under a mango tree and started observing the mangoes. A curious Zafar asked him what he was doing. Ghalib replied, "They say in Urdu that on every grain is written the name of the eater. So, I was checking which mangoes have my name engraved on them."
Curl up on the sofa with this book and treat your brain to a virtual feast.