No Limits: The Art and Science of High Performance
Genre: Personal Development & Self-Help
Language: English
Author: Mukesh Bansal
Publisher: Westland
High Performance has nothing to do with luck or genetics – this is the essence of the book No Limits: The Art and Science of High Performance by tech entrepreneur Mukesh Bansal. In this book, the author has advocated performance optimization. He has stressed on the fact that human ability can overcome limitations and reach their true potential by learning new skills. These skills help the brain to rewire and reprogram itself. He has weaved together age-old wisdom with modern science to provide insights and tools which can help in acquiring high performance.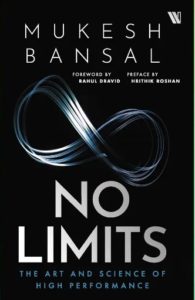 Image Source: https://booksameya.in/no-limits-the-art-and-science-of-high-performance/
The book has been written in simple language and is well structured into four sections. It starts with the author's own journey, the science and foundation, the tools, and finally the implementation. His journey includes his own experience, insights, and wisdom that he has acquired in this professional life. The case studies included have provided additional clarity and has been a valuable addition to the book. Although a lot of statistics have been provided, it has been blended beautifully with the content to make it an easy read.
This self-help book can be helpful for professionals who aspire to attain something big in their careers. It encourages the readers to focus on inherent skills, improve their daily habits, and use technology to develop the right skills required for their professional life. The tools and tips provided in this book are aimed to help individuals unleash their true potential.
Regardless of the stream or industry an individual is a part of, this book shows a path of reaching success to all its reader. The emphasis is on consistent performance, perseverance and a will to succeed. Mukesh Bansal inspires the readers to built within them the passion that leads to high performance and success. It is a must read for anyone who wants to make it to the top.