Light in a Dark Tunnel
Domestic violence is rampant in Indian households, and yet is an issue that is often swept under the carpet as it is considered too private and personal to be discussed openly. Numerous children are witness to ruthless brutality that they can neither comprehend, nor explain. They learn, like their mothers, the art of silence, of perceiving their circumstances as an inevitable 'normal' … of pretence, where bruises are passed off as injuries…  of passively accepting their destinies over which they supposedly have no control.
It certainly is not easy for a child to deal with the trauma that will naturally leave an indelible mark on the mind and affect the child's perception of relationships and gender equations.  "Stories are one of the best ways for children to explore subjects which are dark and maybe even disturbing. Because the issues reach children through the creative filters used with great thought and care by the writers and illustrators of children's books, child readers are able to engage with these themes them in a manner which is natural and appropriate," says Asha Nemiah, author of 'Behind the Lie', a Level Four book on domestic violence published by Pratham Story Weaver for children around and over ten years of age.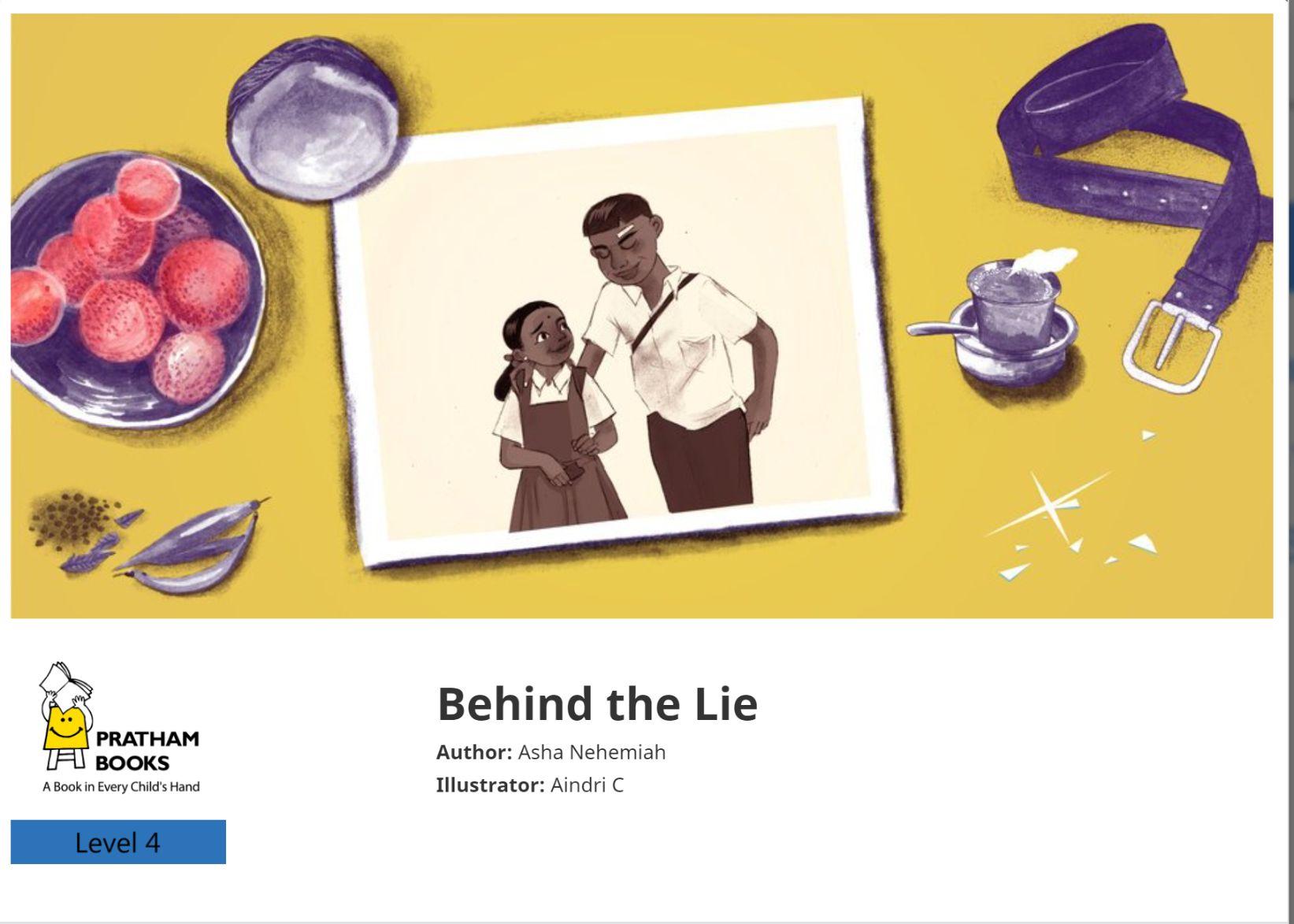 With heart-warming and touching illustrations by Aindri C , the book revolves around Ramesh and Valli, whose mother Meenakshi is regularly beaten up by their monstrous father. Domestic violence is an integral part of their lives, and they live in constant fear, petrified of doing anything that may annoy their father. It is only when Valli goes to the neighbourhood grocer Murugan for the third day in a row to buy bread that Murugan becomes concerned and probes into the matter. Upon learning from his wife the truth of Meenakshi's condition, Murugan decides to help the family. He sends his niece, Jaya, a sub- inspector of police to their house. Jaya expresses solidarity and advises them to seek the support of a family member. Significantly, the person Meenakshi reaches out to in this grim and delicate situation, is her mother-in-law, the only person who yields power over her son. "I chose the paternal grandmother to show that every woman has a responsibility to bring up sons who respect women. And that mothers must hold their sons accountable," explains Nemiah. Support and empathy therefore come to the children from various people, and the story ends on a note of hope and promise that the situation will improve.
The story examines the trauma of domestic violence from the perspective of young children who are often shielded from their environment by adults who put on a facade, without realizing that children are perceptive and sensitive to what is happening around them. It has been observed that violence often results in children blaming and holding themselves responsible for their predicament. Nemiah asserts, "The best way to shield them is to provide them with some form of coping mechanisms. Even knowing that their problem is not unique, or not their fault, can be a big help. Knowing ones' rights, realising that no child should accept violence in silence applies to so many other situations: bullying, online trolling, and other forms of abuse and discrimination."
Asha firmly believes that there are no issues that are irrelevant to children's literature, and in fact, stresses that it is important to focus on topics like death, divorce, bullying, sexuality and sexual violence. She herself has written on diverse issues such as religious intolerance, class and gender discrimination and stereotyping. "These are strands in the story and not the main focus," she states. "Issues need not always be the focal point. They should also appear organically and naturally as part of the plot."
'Behind the Lie' does not mince words or send subtle messages. It is extremely overt in its approach, stating categorically that domestic violence is unacceptable and should not be tolerated. In fact, the book ends with practical tips for children living in or being exposed to abusive families, thus guiding them on what they should do and how they should seek support. It is not surprising, therefore, that her book has received encouraging responses not only from critics, but also from parents and educators. Let us hope more authors take up issues like these and weave stories that can help children deal with real world problems by showing them that there is light at the end of every dark tunnel.
About the Author
Dr. Monica Khanna (Ph.D., M.Phil., M.A.) works as Associate Professor at Indira Institute of Business Management, and Consultant at Indian School of Management and Entrepreneurship. She has around twenty-five years of experience in the field of academics as well as in journalism and business. She has published ten books, including scholarly books on gender studies, books on grammar and composition, books of short stories and picture books for children. She also writes a weekly column for a Navi Mumbai based newspaper, Newsband. She lives in Navi Mumbai with her family. She may be reached at: [email protected]