"Creative side of Covid-19", "Positive Effects of Pandemic", "Intellectual leapfrogging in the lockdown".
Yes, all the three claims mentioned above are TRUE. Ans it has happened to ME!
WFH (Work from Home) has allowed me to read everything that I always missed upon due to the 'commuting time during my WFO (Work from Office).
Recently, I read this book, Excellence has No Borders. It is a book by oncologist Dr. B. S Ajaikumar. In this book the author has narrated his relentless efforts in making the treatment of Cancer available to all.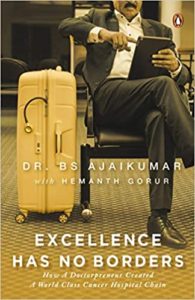 At one point of time, the cancer care scenario was in dire need of upgrading in our country. Cancer being a long-term disease, its treatment was often out of reach to 'financially not so sound' patients denying them the privilege of availing expensive treatments.
Dr. Ajaikumar was determined to change this scenario. He wanted Cancer treatment to be available to all levels of people. He did not want patients to go without treatment only just because they cannot BUT its expensive treatment!
And this is what he set to achieve. Soon his grit and determination bore results and he was able to change the whole cancer care system in India.
This inspiring and fascinating book serves as a motivation for all doctors striving to do some good for mankind. In this book, Dr Ajaikumar has made an attempt to answer several questions which comes to the mind of a doctor aiming to do something additional than just giving treatment to his patients.
The best part is that this book does not limit itself for only doctors and healthcare domain. The limelight is justifiably on illustrating a doctor's journey towards achieving what he had set as a goal for himself. Additionally, it does also provide some very important life lessons and invaluable learnings for people from other professions as well.
The author has narrated the story in a very interesting way. In this anecdotal story, he tells us how he made cancer treatment available to all and created a chain of cancer hospitals across India, and also extended the chain in the USA.
The book goes on to prove that if there is a will for tenacity, hard work, and self-confidence, excellence really has no borders. Dr. Ajaikumar's 'doctorpreneurial journey' has been narrated in a captivating style that is sure to engage and motivate every reader.