"Hope is definitely not the same thing as optimism. It is not the conviction that something will turn out well, but the certainty that something makes sense, regardless of how it turns out" – Vaclav Havel
The second wave of COVID-19 over the first four months of 2021 has, once again, paralyzed and crippled the day-to-day life across the South Asian nations like India, Nepal, Bangladesh and Pakistan as these countries turned out to be a hot-bed of COVID-19.
Sporadic impact of COVID-19 was seen in Nepal and India till March 8. Ever since, it has started spreading from bad to worse. Roughly, till date (7-07-2021) 9700 citizens have lost lives in Nepal and two lakhs in India!
India has recorded 30.45 million cases since the upsurge of the pandemic since last year.   The second wave has not hit only Kathmandu and Terai but it has hit almost all the districts of Nepal. 3.3 million people have been tested so far and out of them 6.36 thousand (6 lakh 36 thousand) have been corona infectious and recovery rate is gradually improving (93.03%).
Province no. 2 Nepal Chamber of Commerce, President, Ganesh Lath says, "More than 250 business tycoons and their family members have lost their lives all over Nepal despite their relentless efforts to save them. Approximately 50 TU affiliated professors, employees have lost their lives. Similarly, 90 /100 front line health workers have lost their lives approximately".
Over the last past one year and a half, the rapid growing of pandemic has resulted unprecedented challenges to the Nepal's health sector. No doubt, COVID-19 has been the biggest and scariest viral threat that human has got to go through in this century. It has not only caused irreparable loss and damages to human life but also brought the world's economy in a quagmire and Nepal, being a developing country, is not an exception resulting millions into unemployment and scarcity and poverty. Developing South Asian countries have suffered a lot as they lack proper and adequate health infrastructure.
Every country aspires for a robust economy.  Any economy can be dynamic only when everything keeps moving smoothly. It is a kind of eco-system. When a single system is tumultuous, the whole mechanism gets disturbed.
Business environment over the last one year and a half in India and Nepal both have been in a stand-still / stagnant. As Nepal's economy is based on agriculture, tourism, privatization and remittance while the major sectors of Indian economy are: Agriculture, Industry Sector, Service Sector, Food Processing and Manufacturing sector.  These all have been in a dire situation now. Lakhs of people have lost their jobs. The plight of the down-trodden workers/ labors is extremely deplorable. They hardly get two times meal. They can be seen on the streets expecting that some social activists or organizations will bring foods for them. It is estimated that 8 lakhs migrant workers have returned to the nation over last one and a half year, and managing them is a big challenge for the government.  The social-economic paradigm has been terribly shaken.
Agriculture:
Agriculture is one of the major occupations of Nepal. Its contribution (including forest and fisheries) in total GDP is estimated to be 31.7 percent in the current fiscal year 2020/21(S. S. Karna, 2021). The agriculture crops, livestock and fisheries are not aloof from the impact of COVID-19. Being an agrarian country, the restriction in travel due to lockdown has affected every stage of the food supply chain, including food production and distribution in Nepal. Farmers are obliged to dump milk and vegetables after a significant decrease in supply and closure of processing companies and proper markets (S.S. Karna, 2021).
Remittance:
About 30% of Nepal's GDP comes in the form of remittance in Nepal but pandemic has changed the whole scenario. It has been tentatively shrunk to 16%. ADB has warned that a sharp decline of remittance will undermine Nepal's external stability. The country was gradually experiencing a rapid economic growth before the pandemic began. Exports of Cardamom, jute products, polyester yarn and threads, noodles and Pashmina. After the upsurge of COVID-19, the import and export-oriented companies are also at huge risk. Business tycoons are quite scared that country's imports and exports will further decline in the coming days because of the worsening scenario of COVID-19 as different variants are being emerged.
Tourism:
The preliminary report of the Nepal Tourism board that it has lost near about NRs 30 billion in earnings and 3 lakhs people involve in this sector have lost their jobs.  According to World Tourism organization, tourism is the worst affected industry amongst the entire essential economic activities. The contribution of tourism sector in GDP of Nepal till 2019 was 7.9 percent. Nepal had been a popular destination for tourists specifically from the countries like China, India, and the USA with an annual flow of tourists more than a million. The outbreak of COVID-19 has left this sector completed devastated.
Budget of Nepal 2021/22: Few Highlights
The institute of Chartered Accounts of Nepal (ICAN) has published the highlights of the budget; the major objectives of the budget are as follows:
To protect the life of citizens from COVID-19 pandemic
To accelerate the pace of economic activities and development programs for reviving economy at the earliest
To escalate the welfare role of state, to provide social security and protection and to attain the prosperity along with social justice
To elevate economy through deployment of means and resources available with public, private and co-operative sector
The Major Priorities of Budget 2021/22 of Nepal
Extension of testing, provision for treatment, supply of health equipment and materials, assurance of free vaccination, development of health infrastructure and effective mobilization of health workers to prevent, control and cure of COVID-19.
Relief packages to Covid-affected families and reviving packages to private sectors.
Job assurance and employment to the newcomers in labor market and laborers who lost the job.
Social security and sanctuary on the basis of life cycle to all Nepalese citizens.
Increment in agricultural production and productivity and assurance of food production.
Establishment of strategically important infrastructure that helps in high-speed industrialization and provide earlier.
Coordination and cooperation between three tier governments for the balanced economic swift.
Rooting out all types of discrimination and inequality, equitable development and justified access on the returns of development and
Guarantee of good governance, peace and security, corruption control, efficacy on governance and services.
The budget has announced special provisions on waiver of tax, fees, interest and penalties.
The budget seems to be quite ambitious but business communities have shown their optimism as the budget has addressed some major demands put forward by them.
Let me precisely put down the major features of Indian Budget too. According to the Indian Express Daily dated July 7, 2021, the following are some of the features of the Union Budget 2021:
An Expenditure Budget
A Signal of Amelioration (Reforms)
No Egalitarian rather a down to earth Budget
Covid-19 Pandemic- Focused Budget
Establishment of Asset Reconstruction Company
Revival of the Development Finance Institutions (DFI)
Asset Monetization
Keeping Election into consideration
Strategic Disinvestment
Growth vs. Prudence
The newspapers commend the budget allocation stating that it is a dauntless and focuses not only an avenue for growth but also a muscular determination for the resurrection of the fainted economy of India and relief for the citizens.
In other words, Indian Budget 2021 spotlights the seven poles for bringing back the economic transactions:
Health and Wellbeing
Physical and Financial Capital and Infrastructure
Inclusive Development for Aspirational India
Reinvigorating Human Capital
Innovation and R & D
Minimum Government and Maximum Governance
The budget, like the one of Nepal, has provided considerable provisions on waiver of tax, fees, interest and Penalties. In other words, the Budget has direct and indirect tax proposals as well to relieve the Indian citizens. The doubt hovers around whether the budget of both nations will be implemented or not.
Regarding Nepal, there is a political imbroglio in the nation. The dissolution of Member of Parliament has reached to the Supreme Court. All are awaiting the verdict of Supreme Court till today July 7, 2021
Conclusion:
Let's be optimistic that both the nations will get vaccinated as soon as possible and the same rhythm in all sectors will start thriving and new will normal will pave the way to different avenues and the world will run smoothly. Europe and America, China and even India have, gradually, started opening up after their citizens got vaccinated.
It is unjust to say that the government has not played a proactive role in curbing the situation in Nepal. Nepal was one of the first few countries in the world which initiated the immunization drive / vaccination drive as early as January 27 with one million doses of Covisheld vaccine being granted by India. At the same time India also went through catastrophic upsurge of the pandemic. As a result, it could not provide vaccines as promised.
China government has also helped Nepal by providing one million verocell as a grant. The cabinet has taken decisions to purchase the vaccines too. Hopefully, bad days will soon disappear.
Human beings have always gone through various crises and they have faced some tragic pandemic since the human civilization sown its seed in the globe. Consequently, human beings have always got victory. We should be thankful to the science and technology and medical advancement that medical scientists have invented 8 kinds of vaccines so far which efficacy rate is from 70% to 92.3%. They have been manufacturing the vaccines in a jet-speed so that the world will get rid of this pandemic. World Health Organization has stated that no country will remain safe until the global population gets vaccinated and only then global moment, global market will take its shape.
"Optimism is a strategy for making a better future. Because unless you believe that the future can be better, you are unlikely to step up and take responsibility for making it so." – Noam Chomsky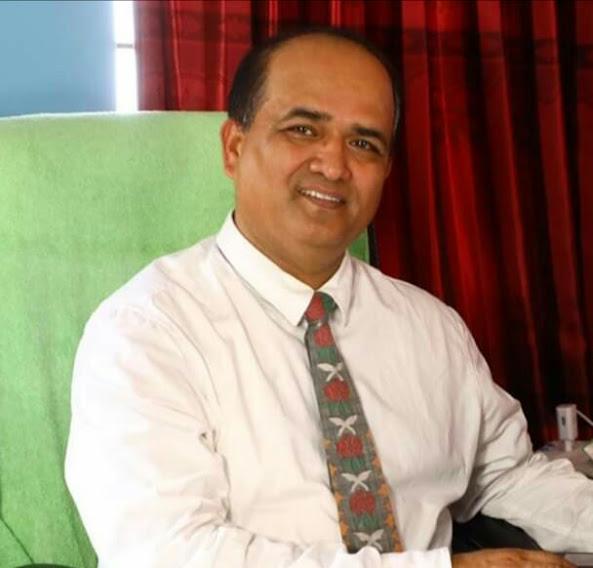 About the Author
Rajendra Prasad Koirala is Assistant Professor (Tribhuvan University, Padma Kanya Campus, Humanities, Apex College, National College (KU), Imperial Business College (affiliated to Pokhara University).
Mr. Koirala holds MA in 5 areas – MA in English Literature, M.Ed ,  MA in Sociology, MA in Political Science, MA in Psychology, LLB (T U) and LLM Scholar (TU) and PhD Scholar (Lumbini University)
Koirala he has been in the teaching profession over the last 30 years. He is a motivational trainer exclusively for leadership and personality development. He has an exclusive and insightful contribution to breeze the gap of theoretical know-how about applied cognitive practices to the university students. He has successfully conducted 100 plus workshops, seminars and interactions over 25 districts in Nepal on "Skill Development of Professionals ".
He has been the faculty member of Managerial Communication for MBA, Business Communication for BBA, Sociology and Psychology for BBA.
He may be contacted at: [email protected]
Want to read more articles like this? Check out our Author Speaks page, here you will find more such content.